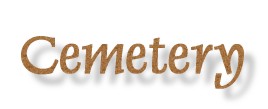 Alan Anderson, archivist
Sumter Historic Trust, Inc.
When I first began recording cemeteries in 1985 I used Mr. and Mrs. W.D. Harvey's Sumter County, Georgia Cemetery Records (1972) as a guide. They had listed individuals chronologically by death date. There were also literally hundreds of typographical or transcription errors. Consequently, I had to develop my own system.
For rural church and family cemeteries I listed people alphabetically by surname and chronologically by birth dates in each family. The earliest generation was recorded first and the offspring, with their respective descendants, came next. For example, if a couple had three sons, the oldest and his descendants would follow first, then the second son and his descendants, with the third son and his descendants last for that family surname.
I recorded all biographical data on each grave marker. Additional information was transcribed in quotation marks after the birth and death dates. Anything I added to what was actually on the marker appears in parentheses. In a feature unique to this website, many obituaries (although unfortunately not all) are cited as well. The alphabetical abbreviations they include are from the following local and regional newspapers: AR - "Americus Recorder"; CI - "Christian Index" (Baptist); SCA - "Southern Christian Advocate" (Methodist); SGP - "South Georgia Progress"; SR - "Sumter Republican"; TCN - "Tri-County News"; T-R - "Times-Recorder." Other abbreviations used were: d/o - daughter of; dau - daughter; inf - infant; M/M - Mr. and Mrs.; s/o - son of.
After the survey date in each cemetery, I added individuals, chronologically by death date, for those without tombstones. The primary source cited either specified the person's burial in that cemetery or strongly indicated as much.
In an undertaking of this magnitude, involving over 110 black and white cemeteries with approximately 10,000 individuals, stretched out over a period of almost two decades, there are bound to be some errors. If you are aware of any please contact me and, upon confirmation, the appropriate correction will be made.
To Submit Cemetery information.



Alan Anderson